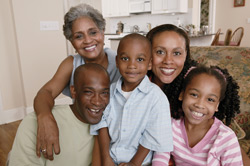 Improved Outcomes for Children is a child welfare system reform using innovative accountability measures, family-centered decision-making, and flexible financing to improve key outcomes for children in foster care and for families receiving preventive services. Improved Outcomes for Children is intended to improve the results achieved by NYC Children's Services and the private agencies under contract to NYC Children's Services which provide Foster Care and Preventive Services. These results include:
Strengthening the preventive agencies' work with children and families;
Helping children in foster care to experience fewer moves while in care;
Getting children to permanent, safe families more quickly;
Increasing the number of children who are successfully served in family based care and reducing the length of stay for children who require residential care.
Overview of Improved Outcomes for Children
Key Milestones of Improved Outcomes for Children
Family Team Conferencing
Provider Agencies Participating in Phases I and IA of Improved Outcomes for Children
Monitoring and Evaluation of Improved Outcomes for Children
Frequently Asked Questions (FAQs)
Improved Outcomes for Children in the News
New IOC Guide
This guide is a roadmap for participating foster care and preventive agencies to use as they develop new ways of providing foster and preventive services and evaluating how their efforts improve the lives of children and families. Download the guide (PDF)