'The Time for Change is Now' -
Conference Targets Youth Leaving Care
"Who is this young person connected with when they leave here? Where do they go or are they alone? It's unacceptable for them to leave care without getting connected to someone." That was the challenge posed by Lorraine Stephens, Deputy Commissioner of Family Permanency Services, on July 11th at the first of what will be a regular meeting between Children's Services' Office of Youth Development and foster care providers working with young people.
The meeting, held at the ACS Children's Center, was focused on the implementation of the Preparing Youth for Adulthood initiative. Emphasizing that everyone in the room had a responsibility to help young people who are aging out of foster care, Stephens explained that the Office of Youth Development as been going through a transformation under its new Assistant Commissioner, Dominique Jones.
Jones made clear the goals that OYD's mission is to let youth know about all the available resources and help available to them such as contacts, education and work opportunities, as well as how to negotiate increased responsibilities. "What are the key pieces to help to develop this young person? That's a question that anyone who works in the Office of Youth Development should be able to answer."
Keith Hefner, the Executive Director of the new Youth Communications website, www.youthsuccessnyc.org, explained that the site, which was developed with the sponsorship of Children's Services and New Yorkers for Children, is designed to be of use to people who work with teens transitioning out of foster care. The site includes information ranging broadly from how to get financial aid for college to how to find a job.
One of the highlights of the day was the presentation by the Children's Services Youth Advisory Board (YAB) which gave participants their unique insights. Made up of six energetic youth who recently transitioned out of care, the advisors captivated attendees with their determination to help other young people who must overcome the same obstacles. "It is time to change," advisory board member Jamell Henderson exclaimed, echoing the sentiments of many of the prior speakers. "The time for change is now."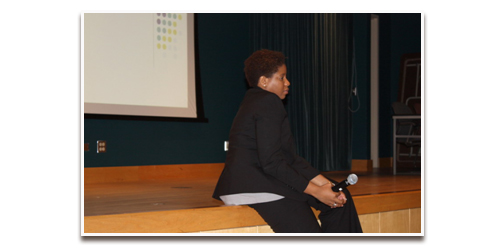 Dominique Jones, Assistant Commissioner of the Office of Youth Development, gives a presentation about the goals of OYD.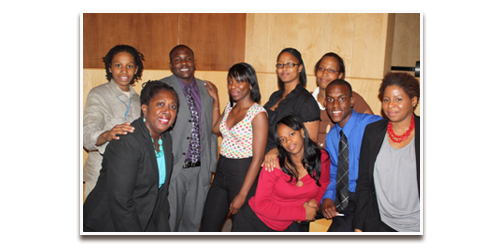 Members of the Youth Advisory Board (from left to right) Latoya McFarlane, Francis "Juice" Odunsi, Elizabeth Cherry, Precious Ward, Ana Bueno, Jamell Henderson and Kenya Clarke (bottom) pose with Antoinette Nelson, Director of Youth Engagement (left) and Dominique Jones, Assistant Commissioner of the Office of Youth Development (right).