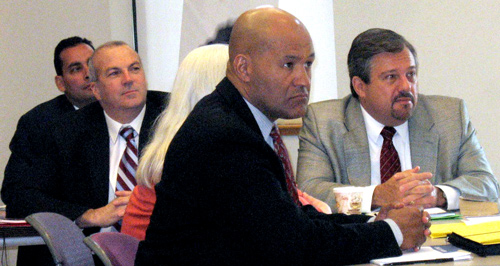 New Investigative Consultants listen to Commissioner Mattingly as they join Children's Services: (counter-clockwise from the front) George Milan, Sue Fox (partially hidden); Charles Cipriano, Ed Navarez and Michael Zeidel.
The latest group of Investigative Consultants is now on board at Children's Services. The IC's are former law enforcement investigators who have been deployed into the field to work with child protective managers and specialists (CPS) on their investigations. They provide consultation and support to CPS workers to enhance their investigative skills.
Commissioner John B. Mattingly formally greeted the 22 IC's on January 8 at the James Satterwhite Academy, where they will begin learning about the processes involved with child protective investigations from the perspective of the social worker. "As a member of the child protective investigative team, your expertise will go a long way to ensure that our investigations are thorough, rigorous and when concluded will keep children safer and less likely to experience abuse in the future," Commissioner Mattingly said.
Their numbers bring the group to 41 IC's now working at Children's Services.