Beauty Salon Training Project Raises Domestic Violence Awareness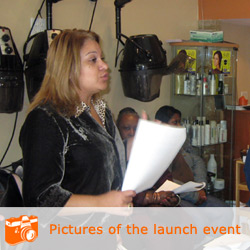 October is Domestic Violence Awareness Month

The first round of trainings to help beauty salon operations identify domestic violence has been successful in Washington Heights, even as the issue continues to be a concern for families citywide. At the launch for the second round of training on October 3, Children's Services Deputy Commissioner of the Division of Child Protection, Jan Flory, noted that domestic violence is an underlying issue in many child protection cases. "This program combines the best of what we have to offer in keeping children and families safe," Flory said.

She noted that providing services to women and children affected can be especially difficult because women are reluctant to talk about domestic violence, and often feel pressure to stay in an abusive situation because they depend on the batterer for support. The salon initiative, run by Children's Services' Washington Heights Family Preservation Program, keeps domestic violence in the forefront and gives the social work interns who run the program the opportunity to work with the community to build relationships, in addition to honing their clinical skills, she said.

Kathy Ryan, NYPD Deputy Chief of the Domestic Violence Unit, noted at the launch that reports of domestic violence have declined in the last five years from approximately 69,000 reports in 2002 to a little less than 55,000 in 2007. Over the same period, intimate partner homicides had been cut in half from 41 to 20. Saying she hoped to see the program grow beyond Washington Heights and throughout the City, Deputy Chief Ryan said "domestic violence is a crime, and everyone is a victim even if they do not experience it personally."

Also speaking at the launch event was Danielle Roundtree, Miss New York U.S.A 2008, who revealed that her family experienced domestic violence which forced her mother to leave home at the age of 12. She promised to use her reign to raise awareness about domestic violence. Other representatives from the NYPD present at the event were Deputy Inspector Andrew Capul, the Commanding Officer of the 34th Precinct, which services the Washington Heights/Inwood communities, Police Officer David Feldman of the Domestic Violence Unit, and Police Officer Haydee Pabey of the 34th Precinct.

Ingrid Dominguez, Site Director and Field Instructor of the Washington Heights Family Preservation Program, said the program in its first year trained workers at 11 beauty salons in the Washington Height/Inwood community, and has attracted additional corporate support from Verizon, which this year is providing a $25,000 HopeLine grant to support the project. AmeriGroup Community Care and Harlem-Dowling Westside Center Respite Program, which helped launch the initiative, have continued their support for the program which will train workers at an additional four salons in the second round of training.

The program has garnered international attention from other cities in the US including New Jersey and Florida as well as internationally from counties including the Dominican Republic and England.

The initiative is part of the observation of October as Domestic Violence Awareness month, and will train beauty salon owners and operators to identify warning signs of domestic violence and provide domestic violence victims with safety planning assistance along with referrals to appropriate community resources. The Family Preservation Program field instructor /District Director and two Masters of Social Work interns will conduct domestic violence recognition training in the salons before the start of business hours. The three training sessions are offered in both English and Spanish. Salons have agreed to display posters specially designed for this project along with health and respite information to allow a woman to safely plan for her children.
The four new participating salons are Piscis Salon, by Josephine Spa which hosted the event, Maria's 5 Star Unisex Salon, Nagle Unisex and Amperio Unisex all located on Nagle Avenue in Washington Heights Manhattan. If you or someone you know is in an abusive relationship, call NYC's 24-hour Domestic Violence Hotline at 1-800-621-HOPE (4673) TTY: 1-800-810-7444 or 3-1-1 for general City services information. Callers receive immediate assistance, including crisis counseling, safety planning and referrals.