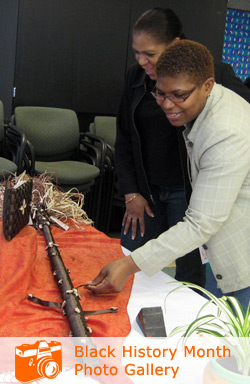 Children's Services staff marked the beginning of Black History Month on February 1, 2008 with a lively entertainment event that affirmed the values of commitment and personal responsibility.

Motivational speaker Dennis Rahim Watson led the well-attended retrospective program. He encouraged the audience to be "ambassadors of your mothers explaining that they should conduct themselves in a way that reflects the time-honored values of respect and personal responsibility instilled by black mothers everywhere.

Watson used popular songs by famous African-American artists such as the Spinners, Smokey Robinson and the Miracles and Aretha Franklin to illustrate his themes. As he announced each song title, the audience began singing along. Watson encouraged the members of the audience to complete his statements, initiating a shout-out and response exchange that infused the celebration with a joyous and festive air. Also performing at the opening ceremony were poet Essence LaMonde, son of ACS staffer Allen Williams; ACS staffers Estee Leger, Jackelle Pension, Alonzo Coombs, Denise Jones and veteran singer Tommy Odom, who earned a standing ovation for his rendition of "The Impossible Dream."



McDonald's Honors ACS Staffer in Recognition of Black History Month

McDonald's celebrated the achievements and talent of black broadcast journalists at their annual Black History Month Awards Ceremony, "Faces of Black History." Faces of Black History was created to salute and honor Black History makers throughout the community and country, from Dr. Martin Luther King Jr. and Rosa Parks to present day heroes. ACS Press Secretary Sheila Stainback, former Court TV and WB 11 news reporter, was one of the honorees at a ceremony held on Friday, February 1st at the world famous Apollo Theater.

During the ceremony, McDonald's unveiled the 2008 Faces of Black History poster featuring the 16 honorees. The commemorative posters are free and will be given away during Black History Month, with no purchase necessary, at the more than 600 McDonald's restaurants throughout the Tri-State area


The theme of the month-long celebration is "Do you know your commitment score?" and it includes a series of events including:
February 8 - 10:00am-4:00pm: Art Exhibit at 150 Williams Street 8th Floor conference rooms. Featuring: ACS Staff Works of Art;

February 13 - 10:00am-2:00pm: Gospel Fest at DC 37, 125 Barclay Street First Floor, Room 1. Featuring: NYC Labor Chorus and others;

February 15 - 10:00am-4:00pm: Health Fair at 150 Williams Street 8th Floor conference rooms;

February 20 - 1:00pm-2:00pm: AAHC sponsors the ACS Reading Group at 150 Williams St Room 8B-1 conference room. Book Selection: "The Women Who Raised Me" by Victoria Rowell;

February 21 - 10:00am-4:00pm: ACS Talent Show at the Children's Center Auditorium, 492 1st Avenue. Featuring: A Play by the staff of OPA, "Wings of Our People" and other ACS performers;

February 26 – 12:00pm-2:00pm: Roundtable discussion - 'Let's Talk About Your Commitment Score': 8th Floor conference rooms; and

February 29 - 10:00am-1:00pm: Fatherhood Forum at 66 John Street Fourth Floor. Featuring: "Kings and Princes…Fathers and Sons."
Luncheons will be held throughout the month at field office locations in Manhattan, Staten Island, Bronx, Brooklyn and Queens.
Black History Month celebrations have been organized by the ACS African American Heritage Committee (AAHC) for the last 15 years. The AAHC is headed by Chairperson Wilma Brown, Joycelin Allgood, John Green, Melvin Austin, Cathy Anderson, Inskip Thomas, Cheryl Drumgold and Kenneth Anderson. The Committee is assisted by Barbara Smalls of the Queens office; Sandra Graydon-Long of Staten Island; Valerie Stark and Yvonne Mosquito of the Brooklyn office; Pamela Lee and Nilsa O'Gilvie representing Manhattan and Charmaine Williams, Barbara Hollins, Corinne Ross, Delores Saxton and Augustine Williams from the Bronx.